Aquaculture Future - Palom and RAS
Our aquaculture future must include Recirculating Aquaculture System (RAS) farmers, like Palom Aquaculture, sustainably growing, a pure, great tasting salmon. 

The nation's aqua future will be deeply connected to the use of RAS within the boundaries of the United States because:  
We import over 80% of our seafood of  which 5% to 10% is inspected regularly by US agencies under our control; we simply do not know what we are eating  
With the exception of remote areas, our bodies of water, both fresh and sea are polluted, though not lethal, many samples contain hormones and pharmaceuticals affecting the sexes of aquaculture life
With conventional farming, scale is the objective with environmental damage only managed on an exception basis, kg-of-fish/liter, has been the goal with little regard to the environment
Conventional growers face exponential problems with pathogens, both non-lethal like lice, and lethal, like anemia. With closed containment salmon farming, Palom can mitigate both operational and financial risk.
Palom's Recirculating Aquaculture System - Why Build It?
Click on any image to enlarge view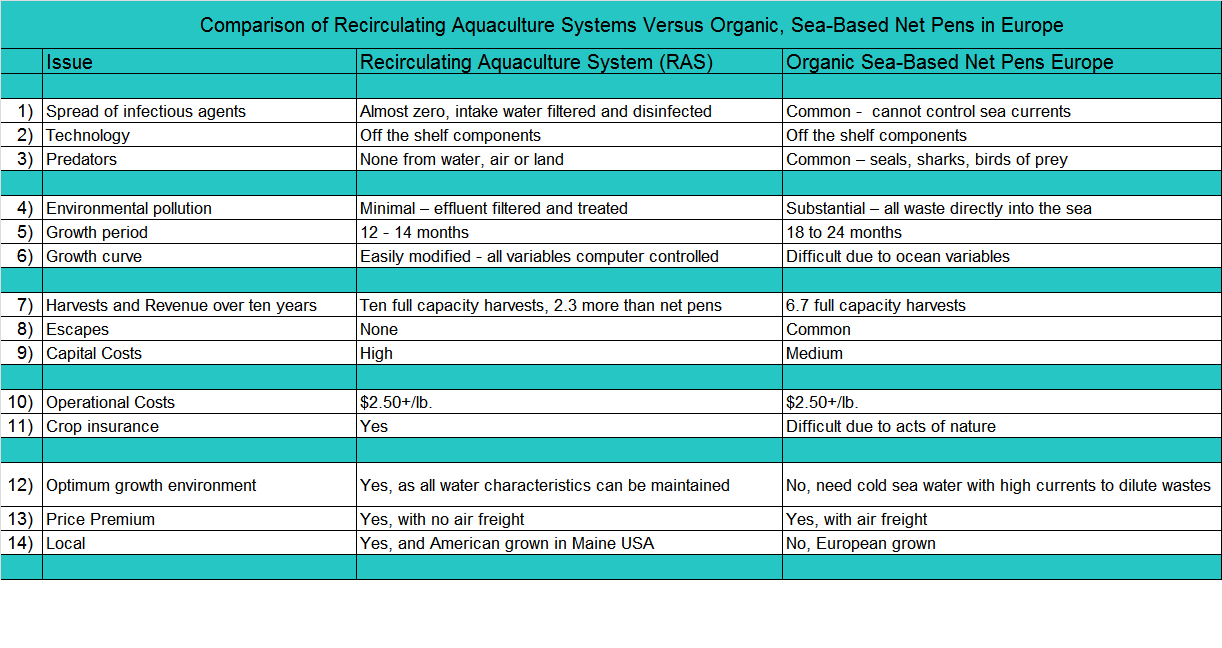 Salmon Farming - RAS vs. Net Pens
Detailed Economic Comparison of RAS versus Open Pen

Both large and small companies use RAS for fish smolt, post-smolt and grow-out: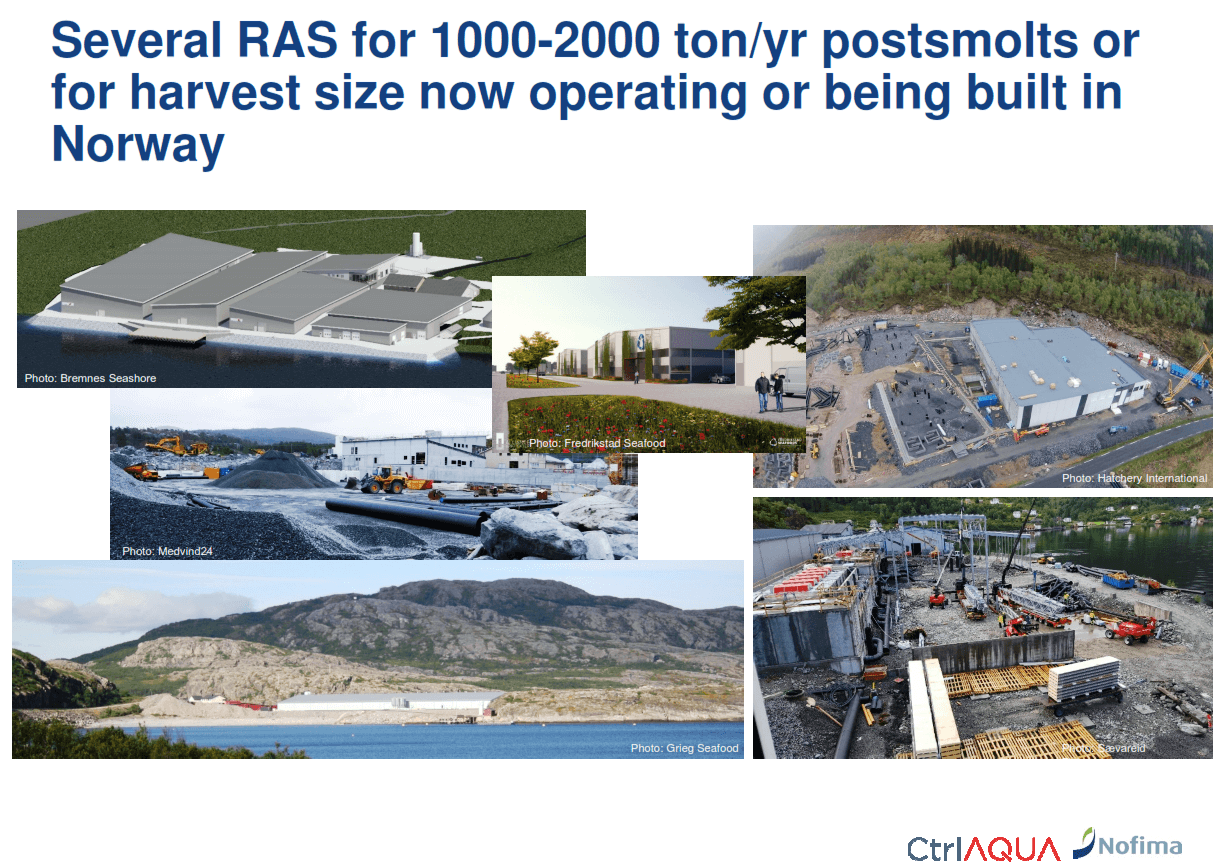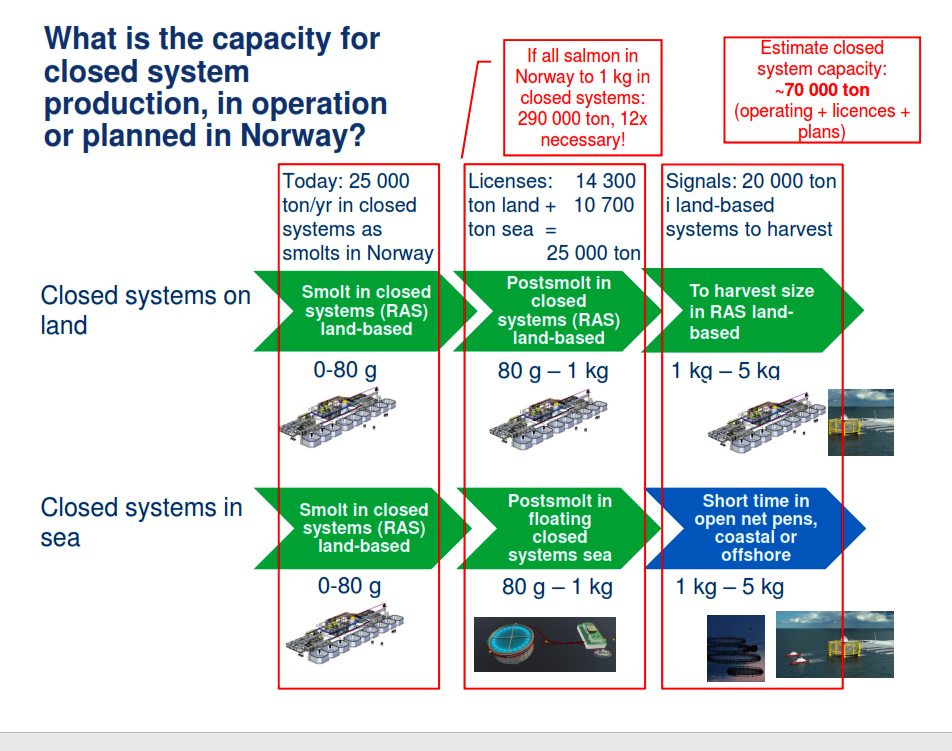 Courtesy of CtrlAqua and Nofima Norway
Our Aquaculture Future Is Now
Construction is important because:
We are ready – no other company has our unique licenses to grow salmon on the coastline of Maine
Public Hearings – residents want jobs, but the cost of the industry pollution is now known and must be balanced with economic needs. Hearings cause delays for new hearings and new information. It took years to obtain permits. Locals understand that their aquaculture future is with RAS or closed containment

Remote Area – individuals control much of the Maine coastline. These residents do not wish their view of the ocean to be obstructed. Legal challenges to these permits are common. The Palom site is removed from residential views and surrounded by US Fish and Wildlife acreage
Clean, Cold Seawater – Prospect Harbor has direct open sea currents and a 12 foot high tide change. The dilution factor is significant.

The temperature of the seawater at sea bottom is typically 50° or cooler; which is ideal for salmon. In many of the other inlets, Maine water can reach temperatures of 60°F, causing health problems for salmon. There is little shipping traffic and no nets pens for miles from our inlet piping   
We have invested and raised 70% of the total capital needs
We have invested substantial personal monies which has attracted low cost debt from export banks  
We have test marketed and retained customers who each can purchase our complete production
Your investment can be simple equity or a perfected interest
Part of your investment can be government guaranteed

We have a seasoned team which will be on the ground in Maine
Sustainable Future - Recirculating Aquaculture has the potential to cut virtually all of our waste stream and reduce the use of highly controversial scientific products like fetal bovine serum.
Animated Tour of Palom's Planned RAS