Develop Quickly
Develop quickly, your Aquaculture Recirculating Aquaculture System, using Palom Aquaculture's permits, building and land.
Local, state and federal approvals are in force.  With 38 acres and utility easements to the ocean you have options to start growing fish and allow long term planning based upon the results of a Phase I construction. 
For phase one, we suggest that your initial plan should have the seawater intake and outlet infrastructure in place along with the pump house.  You have options for grow-out structures and post-smolt structures.  Hatcheries and aquaponics can even be placed on tractor trailers.  The initial building permit, based upon experience will take about three months.   

Develop Quickly - Possible Building Alternatives

Tensioned Membrane Structures Allow You To Adapt With Quick Build and Takedown

The below images show a land-based salmon farming operation in New Brunswick Canada enclosed with a tensioned membrane system.  Building at the time of the pictures was about 10 years old in excellent condition and survived inclement weather.  Floors were a partial slab.  Frames were anchored into concrete frost walls but could have been anchored into metal piles driven below frost lines.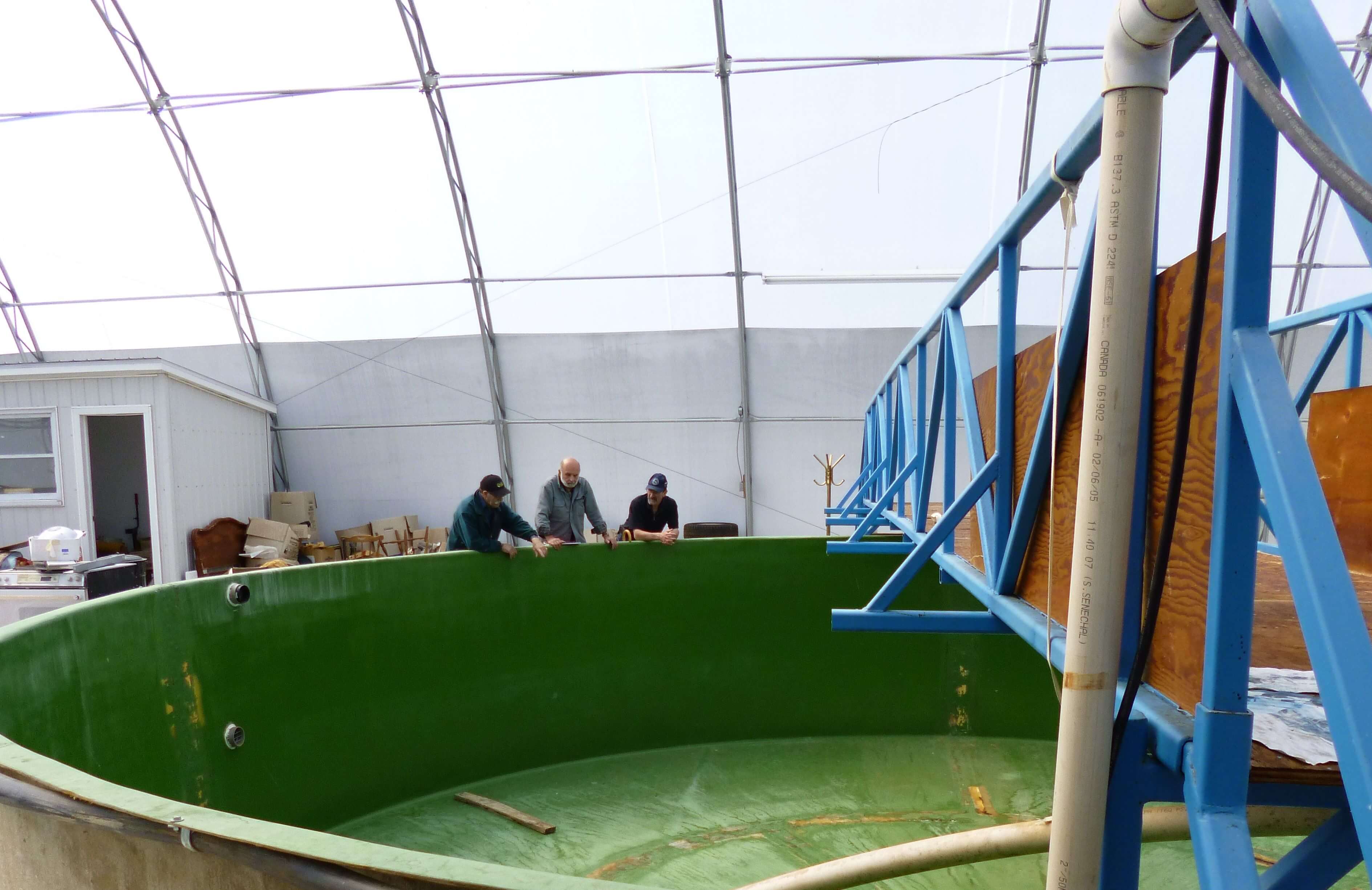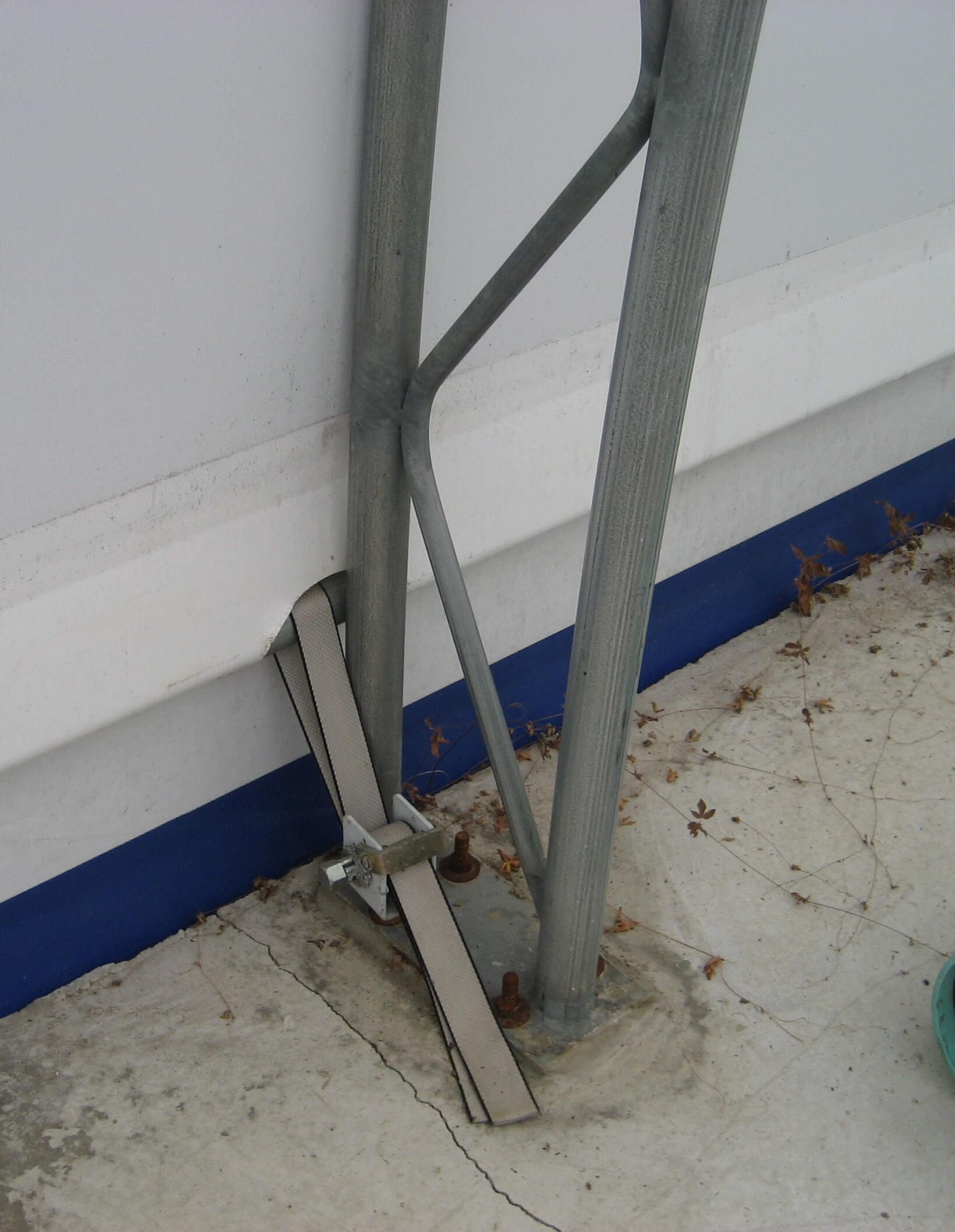 The following grid shows key characteristics of tensioned membrane, pre-engineered and conventionally constructed structures.  All systems will allow you to develop quickly.  For smaller mobile devices, place your device in "landscape mode".

Pre-Engineered Metal Building

Conventional Construction

Delivery

Shipping

15,000 sq. ft. per 52 foot long trailer

6,000 sq. ft. per52 foot long trailer

Foundations
no concrete, width <160 ft.
Envelope Build Time

After foundation, 2,000 sq. ft. / week
Time From Groundbreaking to Completion

Maintenance Schedule
Rust free aluminum substructure, no re-tensioning for life
Large thermal movements can cause leaks at penetrations
Regular maintenance varies with building materials
Designed for Relocation
Natural Daylight Entry
Air Permeability
Accoustics
Inherently good as soft material absorbs sound
Poor without significant additions of insulation material
Poor without significant additions of insulation material
Lifespan
Roof system, 15-50 years with strong maintenance program
Roof system, 15-50 years with strong maintenance program
Sprung Structures is a highly rated manufacturer of tensioned membrane enclosures and buildings.
Rubb Building Systems is another highly rated provider.
Develop Quickly - Flexible, Modular, Portable Tank Systems
Flatbed Systems are self-contained, can be re-constructed easily and are obviously portable.  The picture below is an artist rendering of a self constructed hatchery by Palom Aquaculture.    Freezer containers new and used are readily available in the USA.  Shipping containers can also be used but must be insulated.
Schneider Trailers offer strong guarantees on used climate-controlled trailers.
Conexwest offers both used and new shipping containers, both insulated and non-insulated, with or without climate control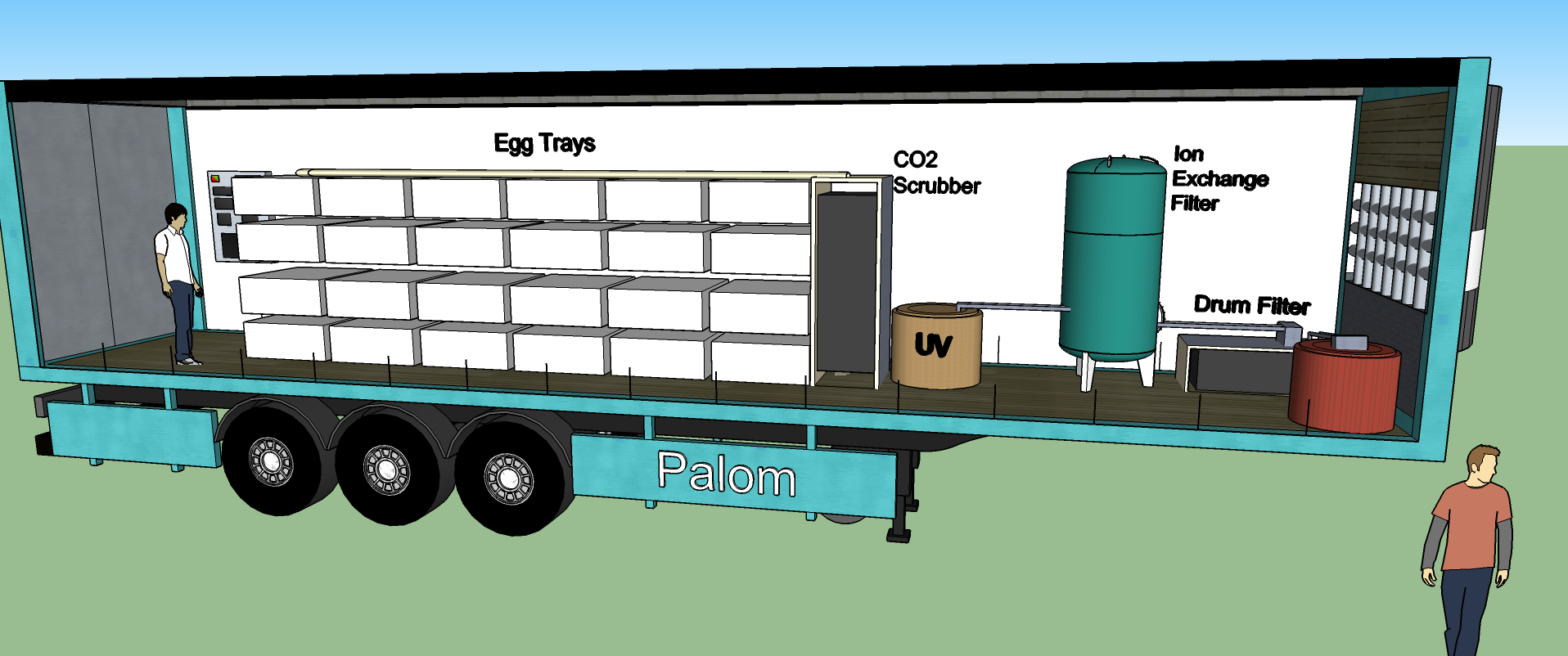 The picture below is a broodstock trailer based system by Billund Aquaculture.

The next two pictures below show modular, container, hatchery system by Sea Water Cube Systems.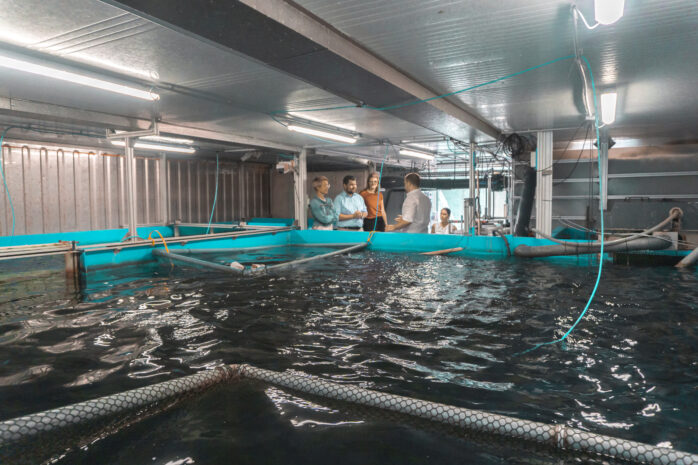 The next two pictures show a portable sheet steel tank system.  The bottom must be rimmed into concrete or with dirt backfill.  These pictures show concrete floors but compacted washed pool sand works also.  Bolted steel tanks can be easily assembled and disassembled with minim manual labor.  This tank system is lined.  The developers were Gray Aquaculture of New Brunswick Canada.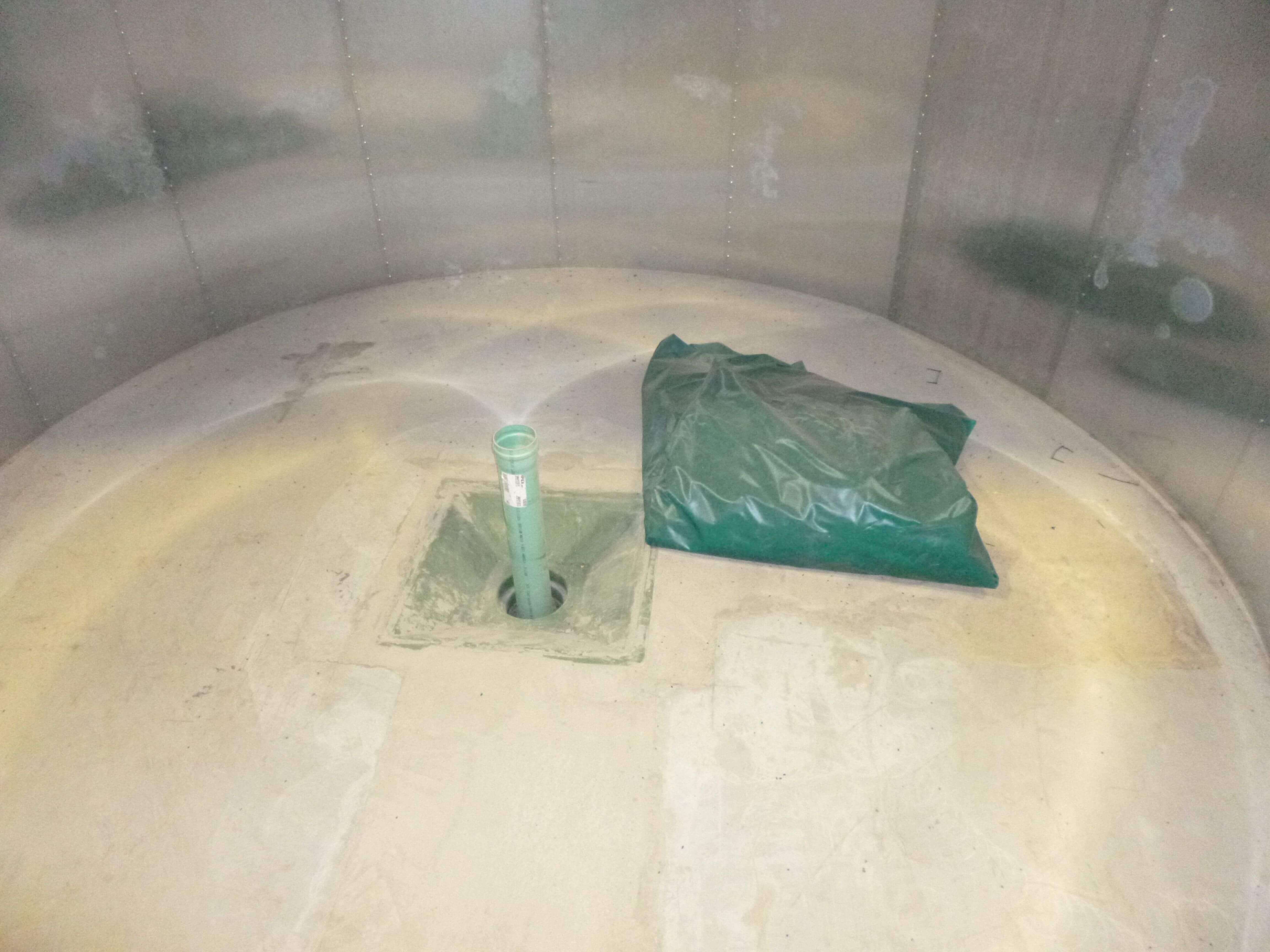 This picture below shows traditional fiberglass and high strength polypropylene tanks of a farm out of business.  Used tanks can be precisely cut and relocated and reattached at another location.

Fiberglass fabrication is generally known and other advantages include:

Affordable: People generally prefers inexpensive but durable tanks for their businesses. Fiberglass is cost-effective.
Long lasting: Fiberglass tanks are less affected by severe weather conditions. In a very cold weather condition, one can find cracks on other tanks but fiberglass tanks are less cracking in such weather. You need not install a new tank within a few years. These have a very low coefficient of expansion. These tanks are uniquely prepared to stand harsh weather conditions and hence extremely durable in nature.
Lightweight: Fiberglass tanks are very light and easy to handle. These tanks have plasticity as one of the characteristics. It is very user-friendly too. It is convenient to change the water and clean inside the tank. You can load and unload the tank without facing much trouble.
Thermal insulation effect: It has good thermal insulation effect. In the winter it helps to reduce the energy consumption which is needed for warming condition for fish stores.
Easy to customize: There are fewer restrictions with customizing of fiberglass.
Little pollution effect: Nowadays, all are concerned about pollution and its effect on our environment. In comparison to other fish tank materials fiberglass tanks create less pollution.
Installation process: The installation process is not so complicated at all. Many marine companies have experience with fabrication.
Maintenance: You need not to spend much time and money for the maintenance of your fiberglass tanks to store fish. A regular maintenance is enough for these tanks. You may hire skilled professionals to investigate whether there are any kinds of problems or not.
Polypropylene advantages include:

Low cost: budget-friendly for a wide number of shapes
Fatigue resistant
High-temperature resistance 140 °F continuous. 180 °F momentary
Low-temperature resistance -4 °F
Chemically resistant to most oils and solvents
Excellent impact strength and stability
Low coefficient of friction
Excellence moisture absorption resistance
Non-corrosive and rustproof
Non-conductive
Lighter than steel
Smooth, non-porous
Paintable with automotive paint
Will not split or crack
FDA approved
Creative Composites Group offers good value for large tanks.
Custom Plastic Fabrications is a highly rated polypropylene fabricator in the USA