Palom Aquaculture 
With Palom Aquaculture permits in place, you can achieve competitive advantage building your recirculating aquaculture system (RAS) in Gouldsboro Maine USA.
Sustainable Competitive Advantage - First and only permitted company in a unique coastal location with remote, cold, clean seawater. New aquaculture businesses will face demanding lengthy, local, state, and federal approvals and expensive coastal land costs. In addition, you can monetize waste products, blood for bioscience applications, offal for human food supplements, and begin aquaponic farming.
Below is an aerial photograph of the Palom Aquaculture Park in Gouldsboro Maine USA.  The red arrow shows the lower park circle which is about 1,300 feet in diameter.  The driveway is about 5,000 feet long and connects to Corea Road (Route 195).  The village of Corea is in the extreme right.  Halfway up the driveway is the proposed office building.  

Below is the proposed building to be renovated for research and development, offices, equipment storage and dormitories.  It is one of two buildings in the 38 acre aquaculture park.

Below, is the artist rendering of the building above including portable isolation trailers in orange.

Palom Aquaculture, aerial view north, overlooking proposed building for hatchery and grow-out buildings.  Driveway to Corea Road is on the left side of the building.  The Village of Corea Maine is in the top right.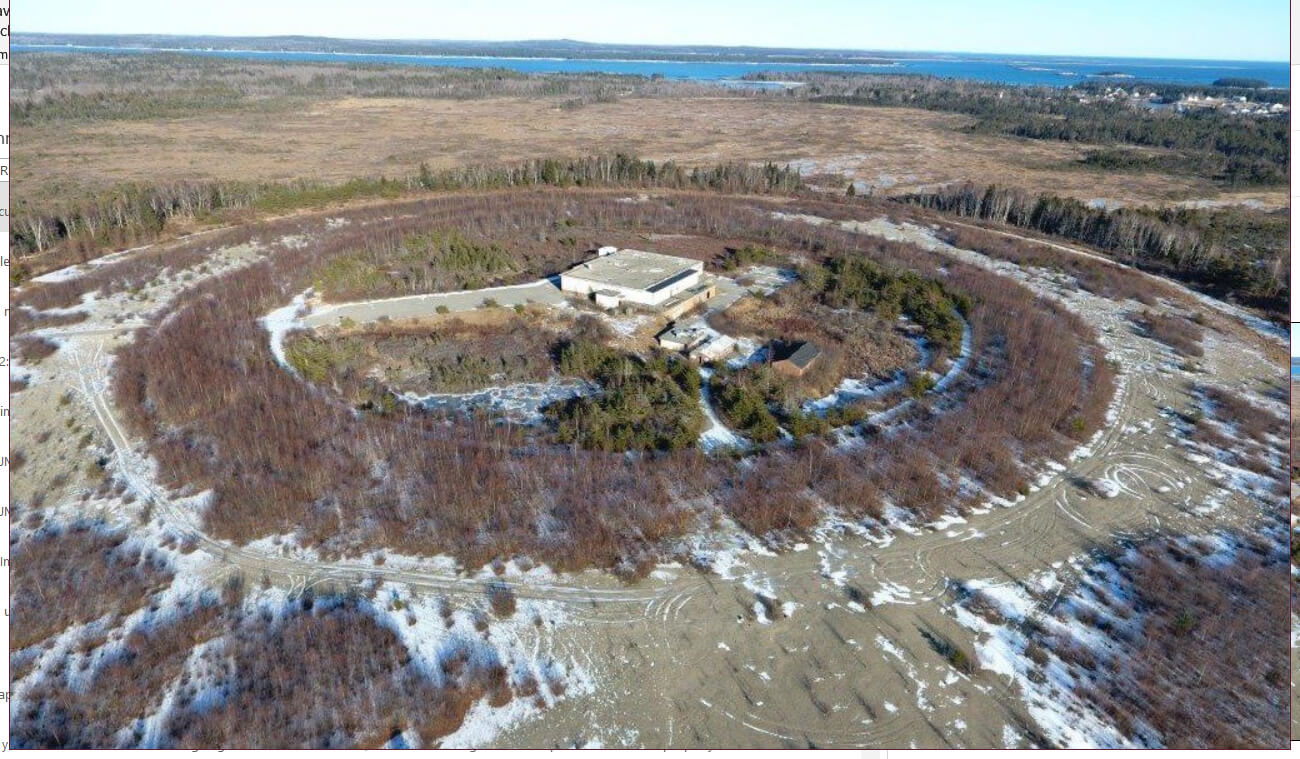 Below, artist rendering aerial view of hatchery, grow-out buildings and aquaponic trailers in green.
Enjoy Competitive Advantage Building Your Recirculating Aquaculture System Using Permits, Land and Buildings From Palom Aquaculture
Develop Quickly – Your project is shovel ready with major local, state and federal approvals in force, build quickly over crushed rock and granite.  Our suggested plans use modular and portable designs to adapt to new conditions and markets. KISS 
Farm Flexibly – Permits allow the farming of foreign Salmonid DNA . Use portable tanks, hatcheries, aquaponic stations as the site is a general commercial zone. Brainstorm with CCAR and USDA Coldwater – Your future site is about 30 minutes by car to this research facility. Tanks, solar panels, multi fuel generators are easy to construct, maintain and relocate as needed.
Tap Into Local Processing Expertise as you commercialize all fish parts – Exploit markets for blood, scales, heads, offal, and waste. Hand work can be profitable – partner with local small businesses, local land farmers and local Native American Tribes.
Benefit From Remoteness - No lobster pots, fish pens, or residential homes; the site will not obstruct views of wealthy landowners, minimal commercial traffic in the bay.  Welcome the open ocean – Prospect Harbor has a substantial tide change creating an enormous dilution factor for effluent. The inlet pipe is 50 feet below the surface, allowing for ideal control of water chemistry and temperature.
Power Up - Electricity is three-phase power at Corea Road, the site is solar and fuel cell capable.  Generate Solar Power – Roof or mobile land-based collectors can be constructed competitively and reassembled as needed.
Reach Markets Quickly – Bangor Airport is less than one hour away, Boston cold storage facilities are four hours away by truck.
Exploit Tax Benefits - Pine Tree Economic Zone Approved
Thrive With Good Will – Gouldsboro residents have been nothing but supportive as we have involved all from the beginning.  Local people and officials openly support the project and look forward to employing a new generation of farmers. Re-purposing an abandoned Naval site versus disrupting or rezoning raw land remains ideal.

Essential Items To Consider If You Choose To Use Palom's Assets
Permits- Local, State, Federal - Our permits are unique to land-based salmon farming in the USA.  According to officials, we were the first in over ten years to modify permit language. In addition, once you are operating, modifying Palom's existing permits for future expansion is more straightforward than starting from scratch, as applicants must publicly state species and their origins at the beginning of the process. 
First Come, First Served - You would be be the first significant polluter in Prospect Harbor; all future companies discharging must include your pollution in the total contamination of the bay, increasing the newcomer's costs.
Permit Approval Statistics (from email history)
1. Almost four years from the initial meeting
2. 4,511 emails and counting
3. 37 individuals from 17 organizations reviewed application materials. Maine AG's office held up final approval (DEP, DMR, and Army Corps), said it was the first time AG got involved, and added its language.
Approval Steps
13 Go, No-Go Tasks Completed, involving public and regulatory review with challenge periods.

Why We Prefer Saltwater Recirculating Aquaculture System
We make no claims that we are geniuses, nor do we wish to tell anyone how to run their business. Instead, the following is a simple suggestion to make life a little more comfortable based on our observations over the last 24 years.  We believe a site with seawater access is necessary for salmon because the fish quality is much better than in fresh or brackish water. Poor salmon traits is freshwater include loss of pigmentation, undesirable flesh, and changes associated with early sexual development causing the forced use of more expensive all-female stock, which some US retailers reject.
Unlike saltwater recirculating aquaculture systems, off-flavor is a much bigger problem in freshwater and much harder to address in a manner that doesn't add cost and complexity. Adequate purging of off-flavor in freshwater requires single-pass clean water and more time, resulting in more significant weight loss levels during purging. In addition, some farms incur unexpected issues using fresh or brackish water resources in warmer climates.
Equally important is having the ability to use more water than is needed for water quality. It is instrumental in eliminating the need for high electricity cost chillers in summer.

Strategy Moving Forward
Start Small And Inexpensively - When our livestock farm started, we purchased animals a few at a time.  Over the years, we grew to several hundred on our lands.  Aside from the seawater intake/outflow infrastructure, the balance of the farm should be built for flexibility and adaptability.

Adaptable – Less is More - Palom's partners learned on both livestock and fish farms to be self-sufficient and keep operations simple. We all could operate equipment, tractors, trucks, mills and care for and harvest animals. We did mechanical repairs and light construction. When needed, we contracted complicated veterinary care and mechanical work to outsiders. Don't start your aquaculture project with large structures, i.e. Monuments.

No Such Thing As Quarantine - Having separated cohorts on the same land is better than placing them all under one roof.  You cannot stop infection; you can only keep your distance from it.  Portable trailers work best to maintain distance.
Partner With A Local Farmer - When we ran out of land for our livestock, we approached vegetable and grain farmers with this idea.   If you watch our animals, feed them our grain, and water our animals on your land, we can share in the profits at slaughter.   Tell a local farmer in Maine that he will not come out of pocket cash, but he must tend to the fish.  All will share in profits at slaughter.  Believe us, a small farmer is looking for another income stream.  Small farmers are entrepreneurial; aquaculture and aquaponics are nothing new for them.  ACRESUSA for decades has promoted aquaponics and hydroponics.   Here is a information encouraging farmers into aquaculture and aquaponics. 
Home Grown Farm Washington Maine
Agriculture Farmer In Ohio Growing Fish - Kingdom Fish
Animated Videos Depicting Potential Development Ideas